---
---



Felt Mountain
Goldfrapp

4. Gold Frapp - "Lovely Head" Shirley Bassey and Nancy Sinatra with the John Barry sound for the new age. Love it. Felt Mountain is still their best album.
---



Shout - The Very Best of Tears for Fears
Tears for Fears

5. Gary Jules' version of "Mad World" written by Roland Orzabal or Tears for Fears - Jules' version is beautiful but I must say that the songwriting again is so so deep. This man understands depression. I know this because I suffer from it too. This track really speaks to me.
---



Tidal
Fiona Apple

6. and 7. Fiona Apple - "Sullen Girl" and "The First Taste" - I love her bluesy slightly off center voice. "Sullen Girl" is so "watery" I feel like I'm floating. And I love the instrumentation on "The First Taste"
---
---
---
---



Best of Bowie
David Bowie

11. David Bowie "Space Oddity" - that Stylaphone solo is fantastic....the production is wonderful. And Bowie....well this is my favorite of his. 2nd choice would be "Win" - it just speaks to me....don't know why......
---



The Whole Story
Kate Bush

12......as does Kate Bush's "Running Up That Hill" - again one of those angsty songs that I must hear again and again, and I never tire of hearing it. Everything about the production is amazing.
---




R&B Dynamite
Etta James

At Last!
Etta James



13. and 14. Etta James - "Good Rockin' Daddy" a great rockin' blues song that when I play it I have to dance around the house and sing my lungs out! I love Etta....love her voice, her attitude, the way she belts, everything! "At Last" as well is one of my favorite all time soul songs.
---
---
---
---
---
---



21. Chris Montez - "The More I See You" This is just the ultimate happy swingin' 60's song. I dream of driving down PCH in a 64 Mustang convertible in candy-apple red and playing this song!! Makes me happy. :-)

*EDITOR'S NOTE* - The Chris Montez version of this song wasn't available in the iTunes catalog so we included links to a Michael Buble version in it's stead.

It's Time
Michael Buble


---
---



The Essential Jefferson Airplane
Jefferson Airplane

23. "White Rabbit" - Jefferson Airplane.......I used to dream of being a hippy when I was a kid, and this personifies it for me. Love Grace Slick as well. Even more now when someone heard one of my songs, and thought I sounded like her......what a huge compliment!!!
---



Strange Paradise
Sophisticated Savage

24. Okay I have to say one of ours.....on our debut album, "Six Numbers" - I just love this song - still can't believe we wrote it! It's not the obvious single....but it's my favorite song on our Strange Paradise album.
---
Click here to see Julienne's entire playlist on iTunes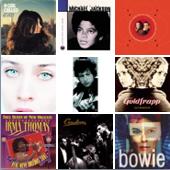 ---